This happened with Smooth Radio's (North East) Twitter account recently…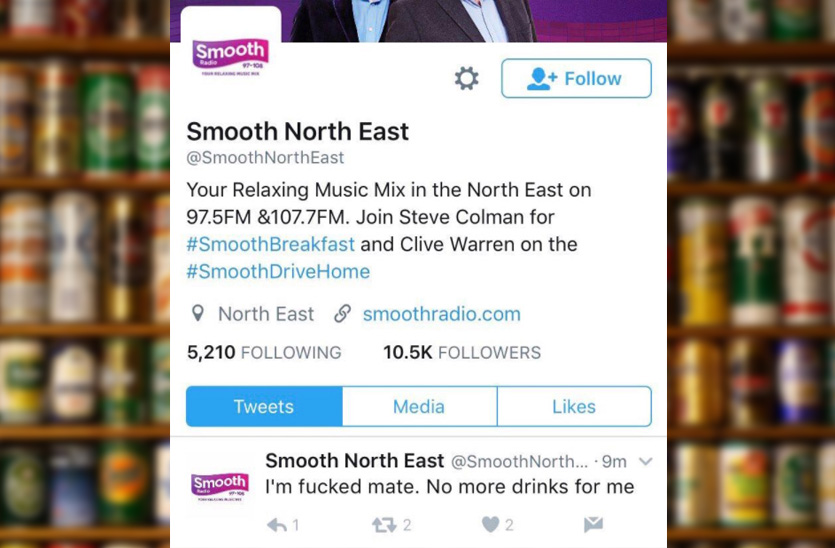 The tweet was up for 30 minutes before someone (sober) deleted it. But it was too late, it had been screen-grabbed, re-uploaded and shared.
It's pretty obvious that this wasn't intended for Smooth North East's 10,500 followers, but still, no company wants to have to explain how this happened.
And when it comes to making sure it doesn't happen again, it becomes more difficult the more people who have access to that social media account.
The drunk offender, for instance, managed to geo-tag themselves to show that the tweet was posted from the 'City of London'.

But that, along with the fact they were sozzled at half eleven at night, they are the only clues we have.
This is because when you log into Twitter through the app on your phone, you do so with a central 'company' password – so there's no way to work out who's logged in, posting what and when.
WORSE…
I'm sure plenty of you are aware that even when the password is changed, people can still have access on their phones meaning that Terrence, who got fired last week for doing something he shouldn't, can still post if he should feel the need…
One way to get around this is to 'revoke everything' – which companies rarely do as it logs EVERYONE out. And people are really bad at remembering passwords…
The other way is to sign up to Sqwarkr. That's because Sqwarkr gives all accounts unlimited users for free meaning that you can say adios to sharing one account and having to change the password every time someone leaves the company – whether they've been fired or not.
Or, if someone does log in to tweet that they've had "too many beverages and would not like anymore", that tweet can be easily traced back to the user.
PLUS – off the back of this fail, we have introduced the 'Profanity Filter' – so you can get the option of blocking our list of swear words (we've done a lot of research) or be warned before posting to be absolutely sure you want to post it!
Sign up for a demo account by clicking here.
For another example of what can happen when companies have come off worse in the social media access battle, check out our post about when a HMV staff live tweeted the moment they, along with many colleagues, were being fired. Click here