It made us sad to hear that some of the biggest companies out there are using Word docs to plot their social media, so we built drafts to make life easier for them.
Drafts mean that you can plan your social timeline ahead of time and if you need to nip in and quickly edit the text, or even add in a photo, you don't need to start the post all over again.
Want to see?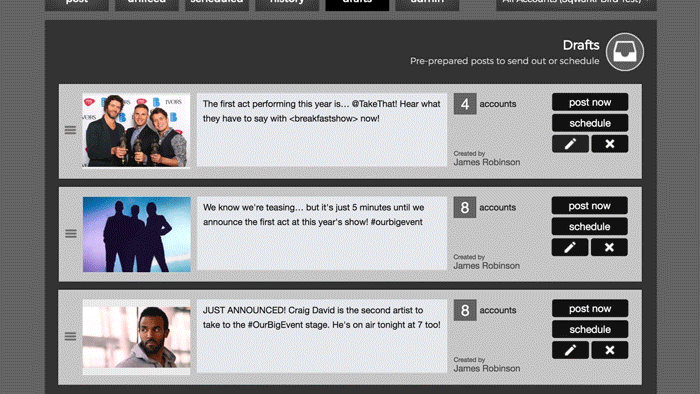 Thanks to Sqwarkr, drafts have now become a place where you can test out ideas, and they're also particularly good when you're covering live events.
For example, Capital used it for their Jingle Bell Ball Lineup announcement.

Whilst they knew every artist that was going to be announced, scheduling posts around live presenters can be really difficult. So with drafts, social media producers were able to wait for the exact moment that the breakfast show actually said the artist name live on the air before hitting 'post'.
Previously, this would have been a copy and paste jobby from a Word document.

So that's:
Test tweet in correct account to see if it fits in the 140 character space
Add into word doc to 'save it'
When finally ready, copy and paste into active Twitter account
What a faff.
Plus, as we all know too well, copy and pasting creates complacency and complacency equals mistakes. And when you're announcing the line up for one of the biggest live shows of the year, it's just not worth it.
So instead, why not use drafts? The place where the order can be altered with a drag and drop and where each post can be quickly edited, scheduled, deleted, proof read and then posted.
JBB Announcement Examples – Curated tweets by sqwarkr