If you're a business that owns multiple locations, it can be a real pain to keep your
social media updated. You've got the choice of either writing six bits of content for
different accounts, or posting one vaguely generic tweet to them all.
Center Parcs owns six different locations in the UK alone.
Each location has a Facebook account with an average of 9,000 followers, plus they have a main account for the company itself.
Now imagine this… Jerry from accounts (who you secretly really don't like anyway)
stops by the marketing office to let everyone know the prices are now going to vary from
location to location. This is going to cause an absolute nightmare for the social media
team. Suddenly every account needs custom copy for prices. They already need
custom copy for phone numbers, activity times, instructors plus more. Nice one Jerry 👎
With the Variables feature from Sqwarkr this can be easily fixed, and leave the social
media team more time to plot their revenge against Jerry.
Creating a brand new Variable is really easy too. So let's take a look at an example…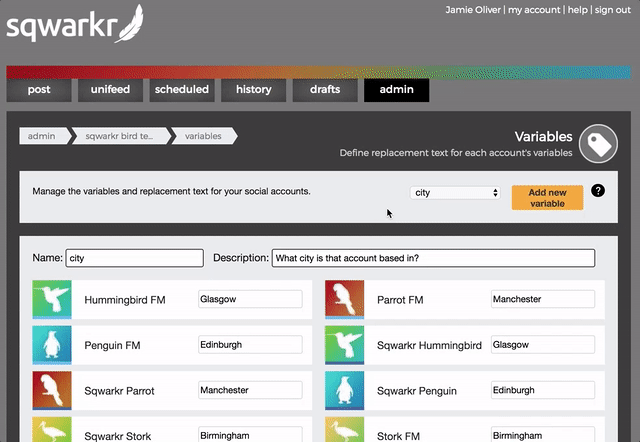 Now that we have our new Variables we can begin to craft some social media content to
rock the world of people who enjoy a well priced family trip away to a countryside forrest
of their choosing 🌲🐿
Let's show you variables in action: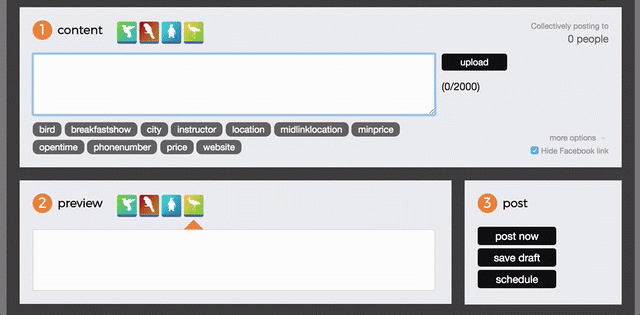 So you can see here, if Center Parcs were going to post the following…
Fancy learning about wildlife during your stay at <location>? Sign up for our bird
watching course with <instructor> from just <price>.
… one bit of content, we can post to six different accounts with six different
prices for six diff… you get the idea.
Using Sqwarkr could potentially save the social media team at Center Parcs UK a huge
amount of time. If you want to be really specific, it will save them 86.3% of their time.
This leaves them plenty more time to plot against Jerry.
You can also see how we're helping other companies with multiple accounts, like
Wireless Group, here.
To try Sqwarkr in your own company sign up here to use it for free.